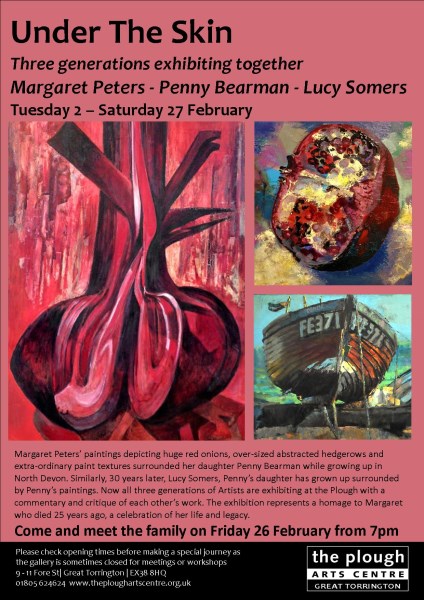 UNDER THE SKIN PLOUGH ARTS CENTRE FEBRUARY 2016
"Under the Skin" Exhibition of Paintings by Three generations, Margaret Peters, her daughter, Penny Bearman and her daughter Lucy Somers. Exhibition to be held at the Plough Torrington from February 2nd to 29th with meet the Artists event on Friday 26th.
All three women went to Art College, Margaret went to Chelsea College in the 1950's and has numerous drawings in the exhibition of the Art School favourite model Quentin Crisp. Penny went to Central School of Art and Design, Lucy to Liverpool John Moore's University where she achieved first class BA and MA degrees.
Although Art culture has changed over the generations, there is a kind of stability in what is learnt from your own family environment. None of these family members tried to teach or influence each other, but the effect of seeing artistic materials used, the passion that surrounds artistic production as well as the great support that parent artists give their artist children is invaluable.
The exhibition features paintings and drawings as well as written anecdotes by Penny and Lucy about each others' work. Margaret Peters lived in Frithelstock Stone and taught in Bideford, she died in 1991. Penny went to North Devon College before leaving home for London and now is a practising painter in Deal in Kent. The Artistic styles varies hugely between wild abstraction and introspective portraiture, though connections are frequently made between similar ideas and similar approaches..


See Penny Bearman
homepage
lucysomers website
email
See blog about Under the Skin on
Wordpress
This exhibition has now closed but is transferring to the Astor Theatre Art Gallery, Deal, Kent, in November 2016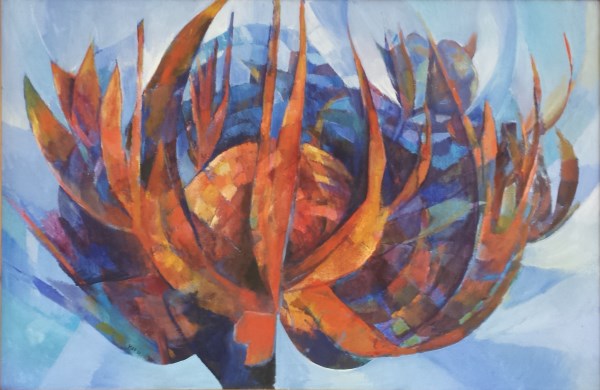 THE PATTERN OF LIFE
"Under the skin" Exhibition (see below)
Transfers to the Astor Theatre Gallery
Stanhope Rd. Deal Kent.
November 2016

Following the thread of family ties from her Mother, Margaret Peters to Daughter Lucy Somers, Artist Penny Bearman presents the paintings of three generations of her family, revealing the extraordinary cultural changes over nearly 6 decades.