The Spirit of Deal
The Spirit of Deal was a project designed to use the arts to counteract the worst effects of the recession of 2009 on Deal's High Street.
Like most towns, shops closed leaving a barren look which threatened to repel future investment and visitors.

Three linked arts projects under this title revitalised Deal, furthering Deals cultural life and filled the gap left by failing commerce.
Spirit of Deal -
Shop windows
Penny Bearman helped create a project where Artists of Deal area achieved a greater visibility at the same time as creating a Deal-wide exhibition to cheer up the town, creating interest for our summer visitors.
Spirit of Deal -
DealMurals
:
Regent, Quarterdeck
,
HighStreet
The second stage of this project is to paint murals on the boarded up buildings. Permission has been given by DDC to place images on the Regent Cinema building and the boards outside the Quarterdeck, opposite the pier.
Spirit of Deal -
Gallery
The third stage, setting up a gallery to showcase the Arts in Deal.
To this end the "Burning Bush Gallery" opened for a trial period, displaying the rich variety of the culture of the Deal area.This subsequently led to the Seaward Gallery and Sealark Studios to open in February 2023.
Contact Penny Bearman: 01304 369332
email:
studio@pennybearman.co.uk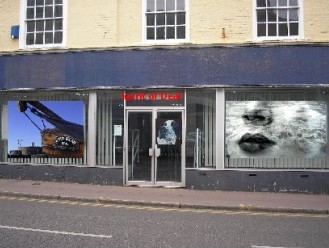 Artists impression of banners to be displayed in the old job centre, Queen Street, Deal...Now a Weatherspoons, called Sir Norman Wisdom

Above the Regent Cinema, with murals replacing blank boards,
impression.
Left Above, the Quarterdeck, murals opposite the Pier, now redeveloped into restaurants.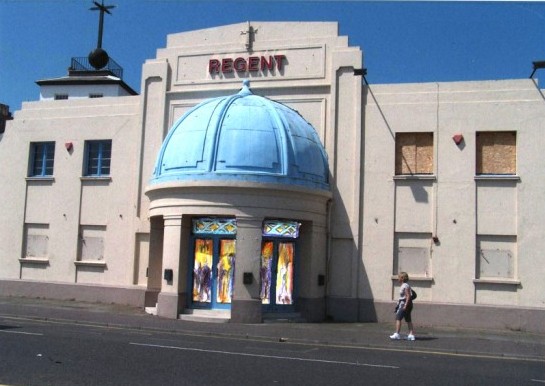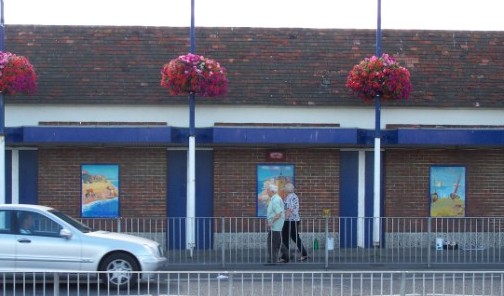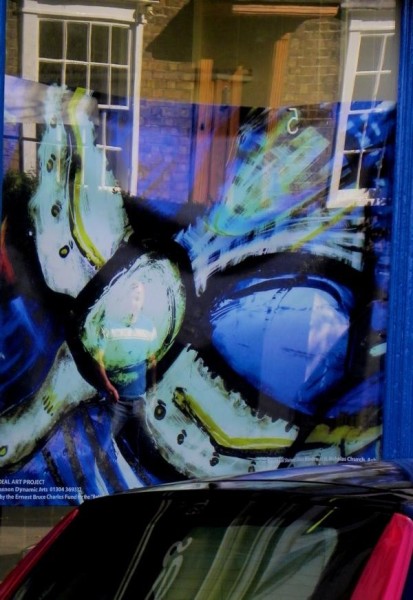 John Corley's stained glass on a shop window banner. Photographed by Harold Chapman